Playboy
STAKING PLAYBOY'S DIGITAL CLAIM AS A CHAMPION OF PERSONAL FREEDOMS
EDITORIAL & COMMERCE-DRIVEN WEBSITE
MARKET & USER RESEARCH / EXPERIENCE STRATEGY / UX & UI DESIGN / FRONT END ENGINEERING / ECOMMERCE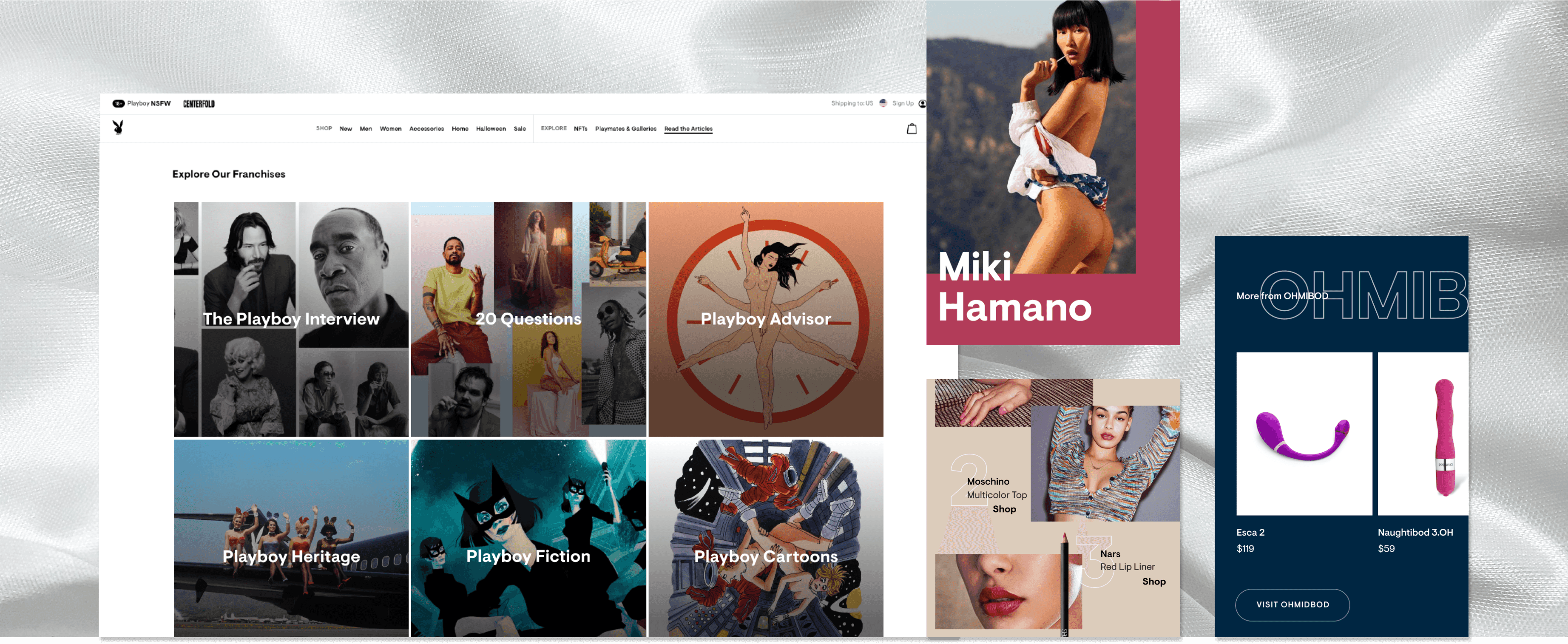 01. The Brief
An aging audience and immanent transition to pure digital highlighted a growing rift between a legacy brand and modern internet culture.
Our assignment was to create an experience to build on growing streetwear momentum and establish cross-generational relevance.
02. The Approach
Through an analysis of Playboy's breakout success in the Asian streetwear market, a series of stakeholder workshops, and extensive user research, we identified an opportunity to integrate commerce into an iconoclast editorial experience.
Through creative workshops and rapid prototyping we were able to conceive of a flexible, modular design system that would allow us to mix commerce and curated products into editorial recommendations and articles, building deeper relationships with the content around it.
We ran our design concepts through user testing panels that validated a product roadmap that could accommodate multiple releases of new feature concepts, including ecommerce integration, and the migration of disparate properties into the newly created core platform.
With motion core to the experience concepts, Siberia engineers designed a performant, flexible, responsive front end and worked alongside Playboy's back end engineering teams through core integrations including a cart integration and a custom CMS system.
"Exploring the new site has changed my opinion and understanding of Playboy as a brand."
KAYLEIGH PARKER 26, NEW YORK CITY
03. The Output
New Look with a Nod to Heritage
The look, feel and pacing of UI and content were designed to speak to a Gen Z audience, challenging the prevailing mainstream perception of what Playboy is, looks and feels like.
1.0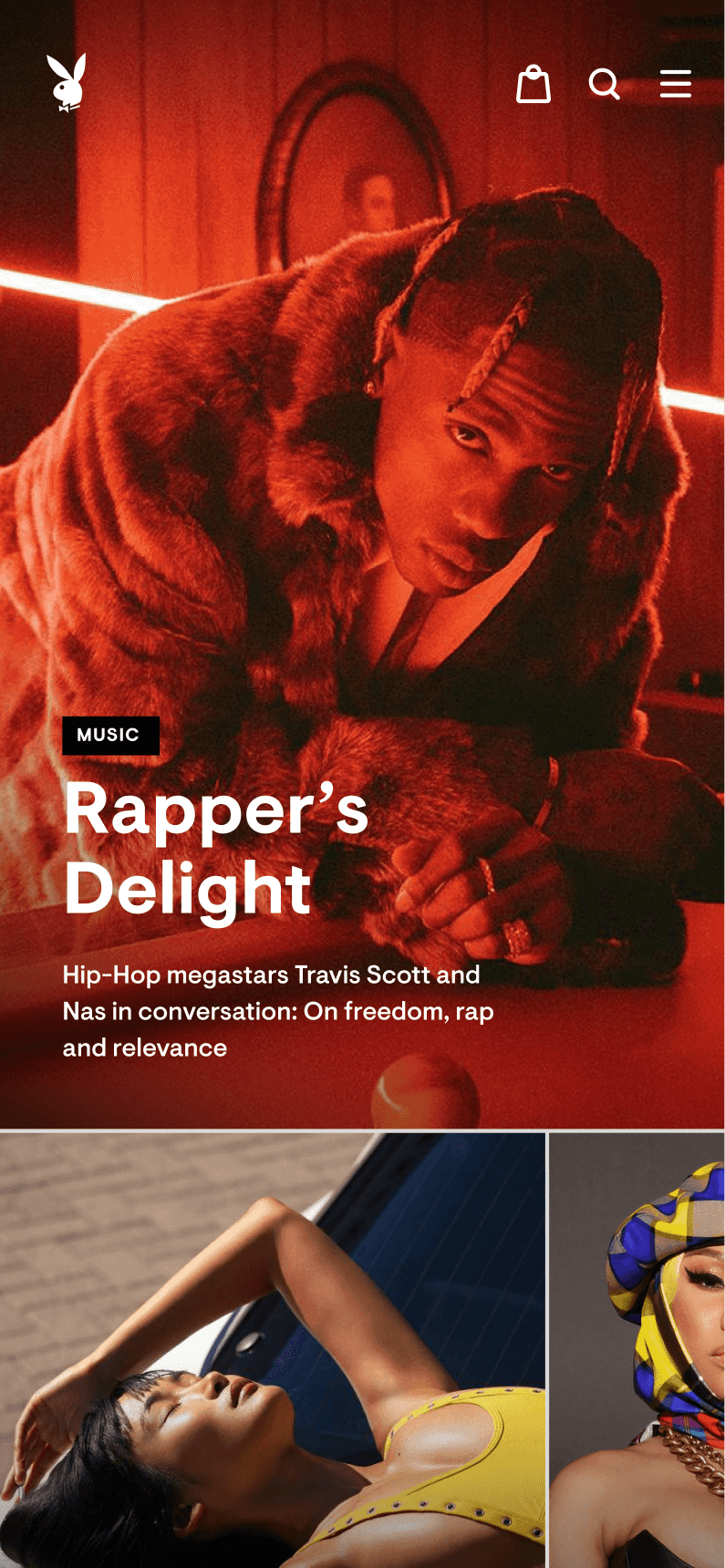 2.0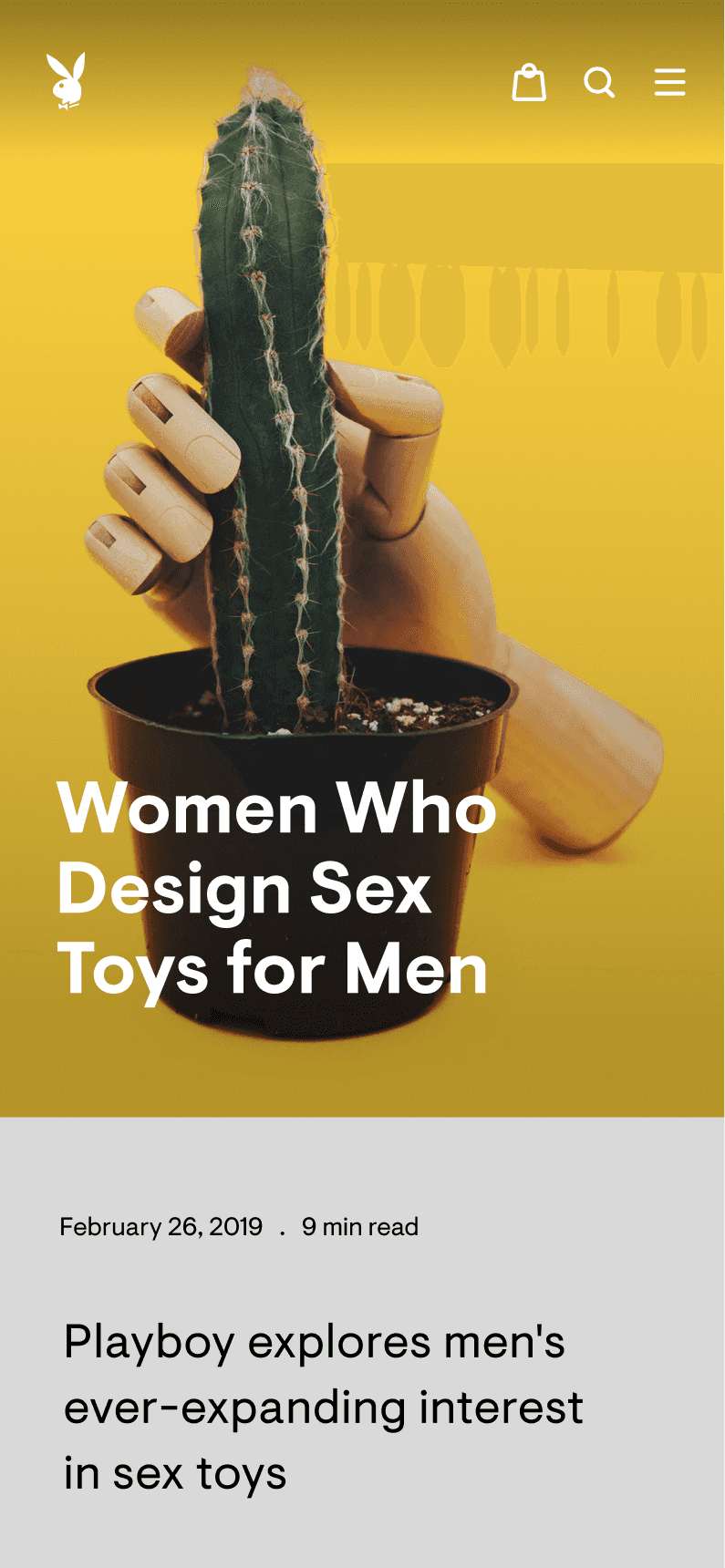 3.0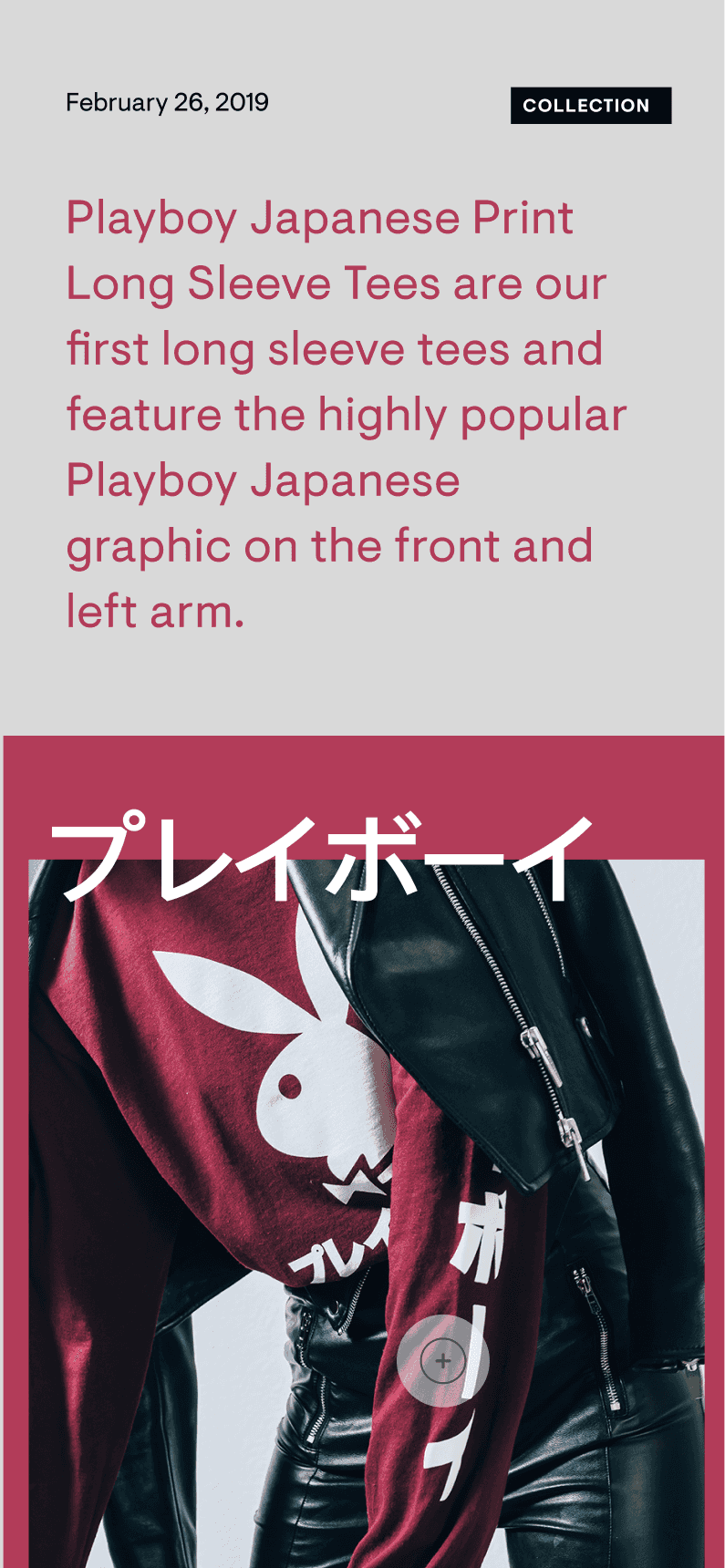 Embedded Commerce
Tagged content features embeddable throughout article templates allowed Playboy to upsell featured products natively through editorial imagery, enabling partnership revenue opportunities and leveraging Playboy's own products to drive a new business model.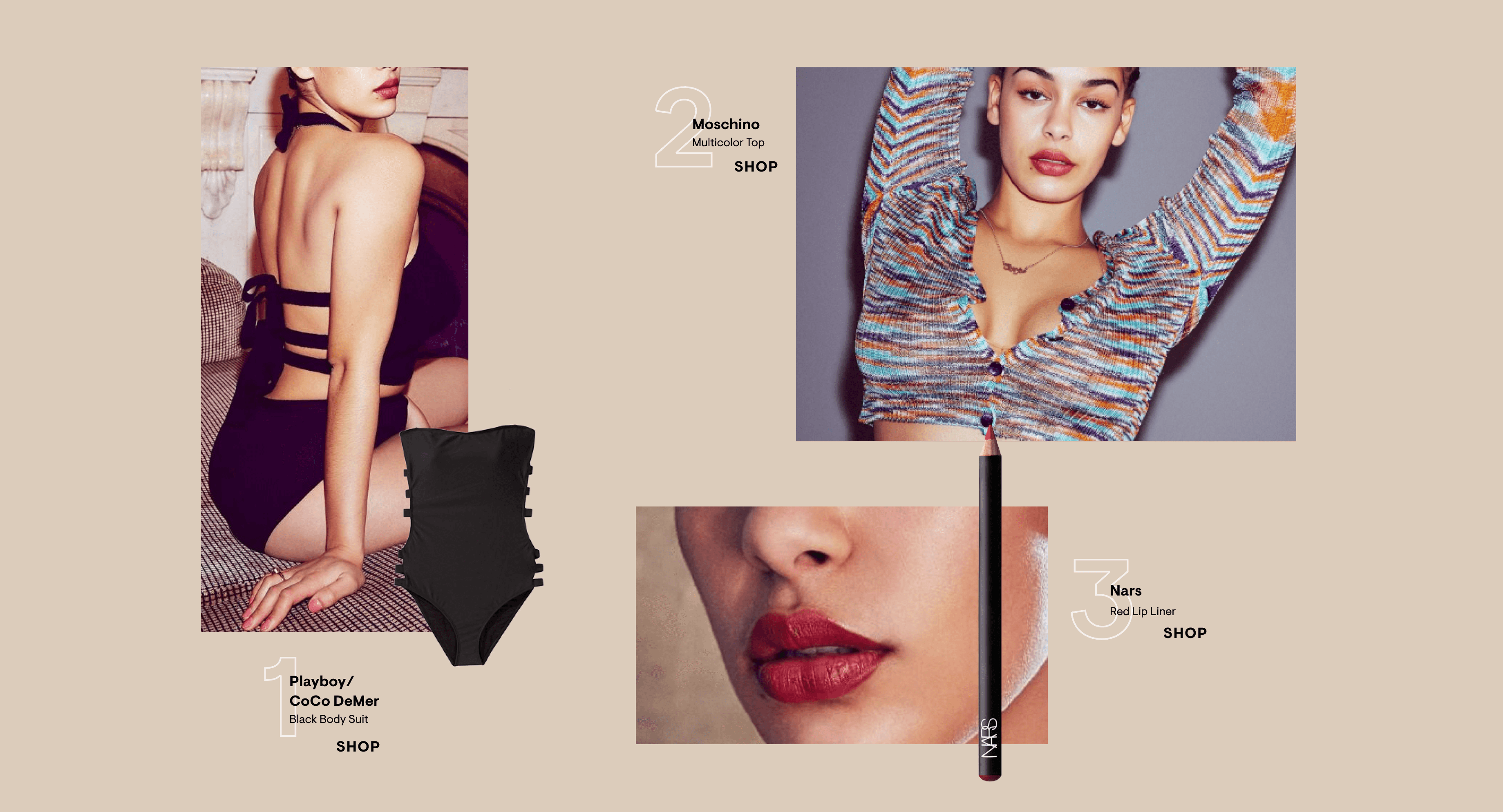 Component Driven Editorial Kit
A core design deliverable was a modular editorial kit that covered an array of content types, from product to collaborations and to serialized content formats. We created a modular design system that enabled Playboy to engage users with targeted offers promoting signature merchandise, collaborations, subscriptions, and curated commerce.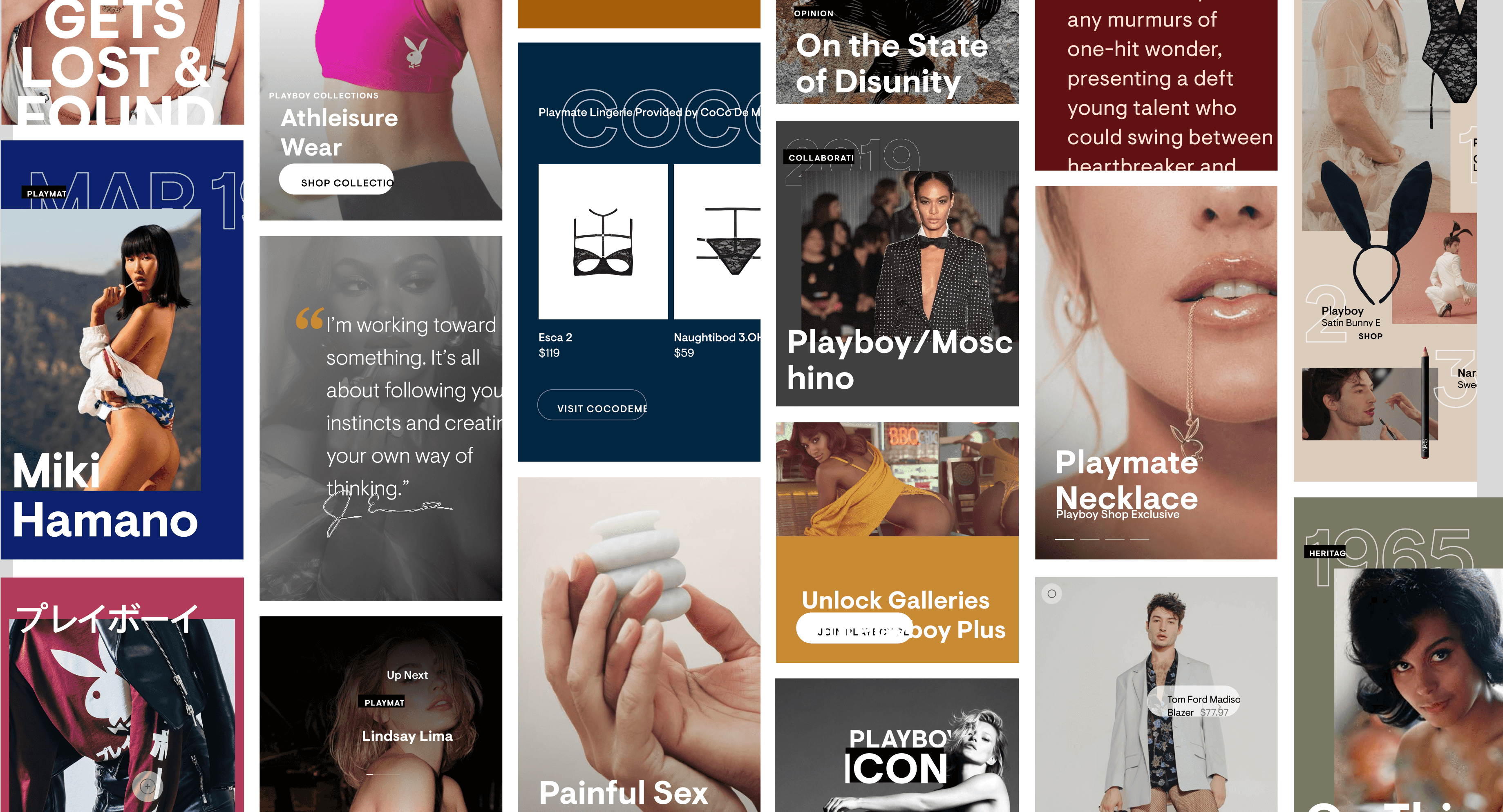 04. Outcomes
The relaunch saw an immediate increase in subscription sign ups, shop conversions, younger readers, and repeat visitors. Playboy has since continued to transform their brand and digital ecosystem, most recently with the launch of the Centerfold creator platform.
In the year following the launch of the new Playboy.com, Playboy reported 1 Million active e-comm users and a 300% increase in North American spend.